21 January 2016, Thursday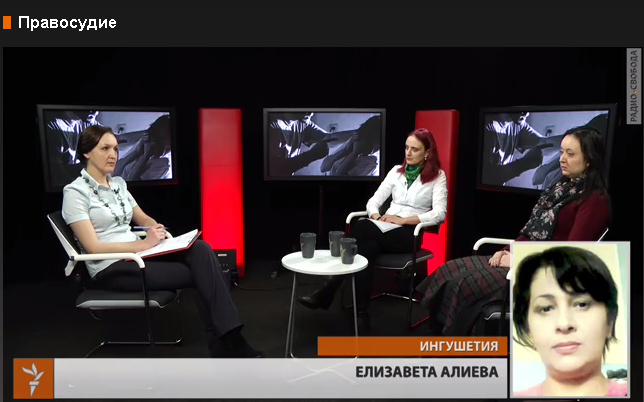 On 21 January 2016, Muharbek Yevloyev, husband of Marem Aliyeva, was detained in accordance with Article 91 of the Criminal Procedure Code of the Russian Federation. Aliyeva has been missing for four months, and disappeared in life-threatening circumstances.
After his arrest Yevloyev complained of health problems and called an ambulance. He was moved to a hospital facility under the supervision of law enforcement. A local court in Ingushetia will decide within 48 hours on the further measures of detention to be applied to him.
Yevloyev is currently a suspect in the kidnapping of his wife's sister, Elizaveta Aliyeva. There is also a criminal case open into the murder of Marem Aliyeva, in which there are no formal suspects as of yet.
The conflict in the Yevloyev family developed over several years. Elizaveta and Marem Aliyeva reported threats and incidents of domestic violence to law enforcement and asked for protective measures. Copies of these appeals were transmitted to Russian Justice Initiative, which is representing Elizaveta Aliyeva in her pursuit of information about the fate of her sister Marem.
The sisters alleged that Yevloyev repeatedly shaved his wife's head, beat her regularly, including during pregnancy, and cut off the tip of her thumb.
Marem Aliyev repeatedly ran away from home. The last time she ran away, in July 2015, Yevloyev came to the house of Elizaveta Aliyeva with a group of armed men and dragged Elizaveta and her husband out of the house and forced them into a car. He demanded to know where Marem had gone. Neighbors who witnessed the ordeal called emergency services. The police caught up with the car and managed to wrench the kidnapped couple out of the car.
Later, after learning that Marem was at a crisis center, Yevloyev returned her home and promised to "get even" with her for running away and for complaining to the police. On 19 September 2015 Marem Aliyeva called her sister Elizaveta and said she was afraid of her husband because he had threatened her again. It was the last time they spoke before Marem's phone was turned off. There has been no news of her for four months.
Elizaveta Aliyeva with the help of Russian Justice Initiative made appeals to law enforcement after her sister's disappearance. She came under tremendous pressure to withdraw her statements from both law enforcement representatives as well as extended family members.
On 18 October 2015, a grenade exploded in Elizaveta's courtyard. On-duty police officers arrived to collect the fragments of the explosive and document the scene. An expert concluded that the explosive device had been an "F1 type grenade."
"On 18 November 2015 we were able to achieve the opening of a criminal case into the murder of Marem Aliyeva," said Olga Gnezdilova, a lawyer for Russian Justice Iniative. "The case was initiated with the wording that the victim 'left the house in an unknown direction,' and there are no formal suspects yet. The criminal case on the abduction of Elizaveta Aliyeva was filed on 17 December 2015. As a result of our motion Elizaveta received state protection to pursue her case."
More details on the case are available from Radio Liberty (in Russian only) http://www.svoboda.org/media/video/27496735.html